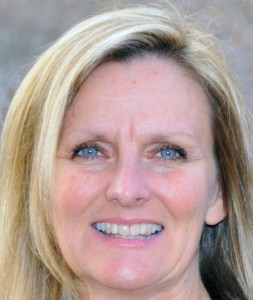 "Words mean things." It's one of my husband's favorite sayings. I love words and how they fit together so beautifully to paint a picture in my mind. I've always loved to read, but a few years ago I rediscovered a love of writing. So now I'm not only a wife, mother of 8, a woodworker, and a tax accountant. I'm also a writer. Who knew?
D. Ogden Huff is a sun addict who moved to Arizona at the age of two. She's lived there ever since, except for a two-year stint in Utah where she discovered that she gets cold just looking at pictures of snow.
Thankfully, she lives in sunny Phoenix with the man of her dreams and a house full of kids, ranging in ages from high school to young adult. They are the funniest people she knows, and there is often choking at the dinner table because of the constant humor.
Master of Emotion is her début novel. Also look for Supreme Chancellor of Stupidity, Book 2, Dictator of Disaster, Book 3, and Servant of NonSense, Book 4, of the four book series. She's also written a stand alone LDS Romance, Once Upon a Tour.
Writer's Resume:
D. Ogden Huff
Education • Apollo High School, Glendale, AZ, high school diploma, High School Newspaper Editor • Arizona State University, BS in Accounting
Writing Experience
• Reconnected with writing in 2008 (after a 25 year break to research the complexities of raising children and teenagers). • Completed six novels and six children's books in nine years. • Two additional novels in process.
Speaking Experience
• Comfortable speaking in front of large or small groups.
• Currently responsible for eight congregations of women as a leader of a church group, with monthly speaking responsibilities.
Professional Experience
• Chapter President – Westside Stories Chapter of American Night Writers Association, Phoenix, AZ • Joined ANWA in 2008 and attended the ANWA Writer's conferences since 2009. • Eagerly seeks opportunities to have work critiqued. • Volunteers often to critique the work of others. Beta reader for Kaylee Baldwin's published book, Meg's Melody.
• Executive Treasurer – American Night Writers Association • Member of ANWA Ad hoc Bylaws and Policies and Procedures Committee • Responsible for overseeing incorporation process and non-profit status request.
• Webmaster – American Night Writers Association • Responsible for overseeing all changes and much of the design of the website at www.anwa-lds.org .