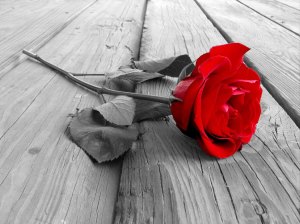 One of the definitions of the word "Contrast" at Dictionary.com is the "opposition or juxtaposition of different forms, lines, or colors in a work of art to intensify each element's properties and produce a more dynamic expressiveness." Contrast is arranging opposite elements together, like light and dark, rough and smooth, large and small. Combining two contrasting components creates interest, excitement, drama, and can direct the mind to a particular point within the piece.
Contrast is not limited to visual art; we can produce "more dynamic expressiveness" in our writing by pointing out opposites. Contrast shows how elements like characters, setting, and voice are different. Contrast is the antonym of a simile, which compares using the words "like" or "as." Think of Contrast as "unlike" or "different than."
Here are a few examples:
"The TV also brought into my life two appealing characters named Laurel and Hardy, whom I found clever and gentle, in contrast to the Three Stooges, who were blatant and violent."  (Steven Martin, Born Standing Up: A Comic's Life. Scribner, 2007)
"I expected a grandmother, wiping her hands on a gingham apron, to come from the kitchen. Instead I got Brenda. Young, sullen, pink uniform, bottlecaps for eyes, handling her pad the way a cop does his citation book. The menu said all breakfasts came with grits, toast, and preserves. I ordered a breakfast of two eggs over easy. 'Is that all you want?'" (William Least Heat-Moon, Blue Highways, 1982)
"There are about four times in a man's life, or a woman's, too, for that matter, when unexpectedly, from out of the darkness, the blazing carbon lamp, the cosmic searchlight of Truth shines full upon them. It is how we react to those moments that forever seals our fate. One crowd simply puts on its sunglasses, lights another cigar, and heads for the nearest plush French restaurant in the jazziest section of town, sits down and orders a drink, and ignores the whole thing. While we, the Doomed, caught in the brilliant glare of illumination, see ourselves inescapably for what we are, and from that day on sulk in the weeds, hoping no one else will spot us." (Jean Shepherd, "The Endless Streetcar Ride," 1966)
"Nothing is more useful than water; but it will purchase scarce anything; scarce anything can be had in exchange for it. A diamond, on the contrary, has scarce any value in use, but a very great quantity of goods may frequently be had in exchange for it."  (Adam Smith, The Wealth of Nations, 1776)
One way to show the qualities of a character is to put him in a setting where he doesn't belong, thus showing the contrast in the situation. Think of all the contrasts shown as we see Harry Potter living in a closet under the Dursley's stairs and later on when the Dursleys match wits with Hagrid. Light/Dark. Large/Small. Day/Night. Hungry/Greedy. Humble/Proud. The contrast between these opposites brings interest, excitement, and drama to this story and speaks volumes about the character that we learn to love. Contrast can do the same in your writing.